Title:
The Croods: A New Age
Rating:
PG
Running Time:
1 hour 35 minutes
More Information:
Click Here
Description:
After leaving their cave, the Croods encounter their biggest threat since leaving: another family called the Bettermans, who claim to be better and evolved. But after Eep and the Bettermans' only daughter escape, the two families must put aside their differences to save them.
Showings for
Friday, 1/15/2021 through Thursday, 1/21/2021
Friday
7:00 PM

Saturday
4:00 PM
7:00 PM

Sunday
4:00 PM
7:00 PM

Monday
7:00 PM

Tuesday
7:00 PM

Wednesday
7:00 PM

Thursday
7:00 PM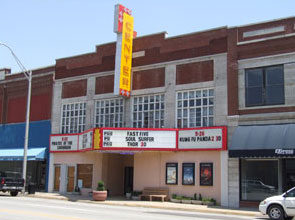 Center Theater of Vinita
124 S. Wilson St.
(The above link will open a map in Google Maps)
Ticket Prices
Adults: $8.00
Children: $7.00
Seniors: $7.50
Students: N/A
Military: 7.50 Children = Age 3-11
Seniors = Age 62 & Up

Showtimes before 5:30 P.M. have the bargain matinee price of $6.50
There is a $2.00 surcharge for all 3D films
Phone: (918) 256-2097