Title:
Space Jam: A New Legacy
Rating:
PG
Running Time:
1 hour 55 minutes
More Information:
Click Here
Description:
When LeBron and his young son Dom are trapped in a digital space by a rogue A.I., LeBron must get them home safe by leading Bugs, Lola Bunny and the whole gang of notoriously undisciplined Looney Tunes to victory over the A.I.''s digitized champions on the court. It''s Tunes versus Goons in the highest-stakes challenge of his life.
Showings for
Friday, 7/30/2021 through Thursday, 8/5/2021
Friday
7:00 PM

Saturday
4:00 PM
7:00 PM

Sunday
4:00 PM
7:00 PM

Monday
7:00 PM

Tuesday
7:00 PM

Wednesday
7:00 PM

Thursday
7:00 PM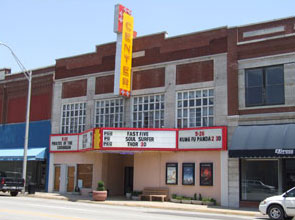 Center Theater of Vinita
124 S. Wilson St.
(The above link will open a map in Google Maps)
Ticket Prices
Adults: $8.00
Children: $7.00
Seniors: $7.50
Students: N/A
Military: $7.50

Children = Age 3-11
Seniors = Age 62 & Up

Showtimes before 5:30 P.M. have the bargain matinee price of $6.50
There is a $2.00 surcharge for all 3D films
Phone: (918) 256-2097