Title:
Peter Rabbit 2: The Runaway
Rating:
PG
Running Time:
1 hour 33 minutes
More Information:
Click Here
Description:
Bea, Thomas, and the rabbits have created a makeshift family, but despite his best efforts, Peter can't seem to shake his mischievous reputation. Adventuring out of the garden, Peter finds himself in a world where his mischief is appreciated, but when his family risks everything to come looking for him, Peter must figure out what kind of bunny he wants to be.
Showings for
Friday, 6/18/2021 through Thursday, 6/24/2021
Friday
7:00 PM

Saturday
4:00 PM
7:00 PM

Sunday
4:00 PM
7:00 PM

Monday
7:00 PM

Tuesday
7:00 PM

Wednesday
7:00 PM

Thursday
7:00 PM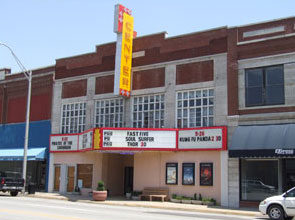 Center Theater of Vinita
124 S. Wilson St.
(The above link will open a map in Google Maps)
Ticket Prices
Adults: $8.00
Children: $7.00
Seniors: $7.50
Students: N/A
Military: $7.50 Children = Age 3-11
Seniors = Age 62 & Up

Showtimes before 5:30 P.M. have the bargain matinee price of $6.50
There is a $2.00 surcharge for all 3D films
Phone: (918) 256-2097