Title:
Spirit Untamed
Rating:

Running Time:
1 hour 28 minutes
More Information:
Click Here
Description:
Lucky, a gutsy 12-year-old girl longing for a place to belong, befriends a wild mustang she names Spirit. With her two best friends Abigail and Pru and their horses by her side, they explore a world filled with endless adventure, magnificent horses and never ending fun.
Showings for
Friday, 6/18/2021 through Thursday, 6/24/2021
Friday
No Showings
Saturday
No Showings
Sunday
No Showings
Monday
No Showings
Tuesday
No Showings
Wednesday
No Showings
Thursday
No Showings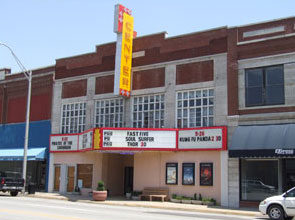 Center Theater of Vinita
124 S. Wilson St.
(The above link will open a map in Google Maps)
Ticket Prices
Adults: $8.00
Children: $7.00
Seniors: $7.50
Students: N/A
Military: $7.50 Children = Age 3-11
Seniors = Age 62 & Up

Showtimes before 5:30 P.M. have the bargain matinee price of $6.50
There is a $2.00 surcharge for all 3D films
Phone: (918) 256-2097