Title:
Walking with Herb
Rating:
PG
Running Time:
hour
More Information:
Click Here
Description:
Joe Amable-Amo is a bank executive and former amateur golfer struggling with his faith after an unexpected tragedy. Faced with growing doubts about himself, his purpose, and his belief in God, Joe is stunned when he receives a message from God on his computer screen telling him that he's been chosen to inspire the world and play in a world championship golf tournament. Guided by God's eccentric personal messenger, Herb, Joe learns that the seemingly impossible is possible…through faith, family,
Showings for
Friday, 5/7/2021 through Thursday, 5/13/2021
Friday
7:00 PM

Saturday
4:00 PM
7:00 PM

Sunday
4:00 PM
7:00 PM

Monday
7:00 PM

Tuesday
7:00 PM

Wednesday
7:00 PM

Thursday
7:00 PM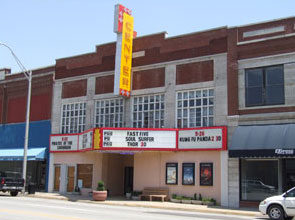 Center Theater of Vinita
124 S. Wilson St.
(The above link will open a map in Google Maps)
Ticket Prices
Adults: $8.00
Children: $7.00
Seniors: $7.50
Students: N/A
Military: 7.50 Children = Age 3-11
Seniors = Age 62 & Up

Showtimes before 5:30 P.M. have the bargain matinee price of $6.50
There is a $2.00 surcharge for all 3D films
Phone: (918) 256-2097