Title:
Nobody
Rating:
R
Running Time:
1 hour 32 minutes
More Information:
Click Here
Description:
Hutch Mansell, a suburban dad, overlooked husband, nothing neighbor — a "nobody." When two thieves break into his home one night, Hutch's unknown long-simmering rage is ignited and propels him on a brutal path that will uncover dark secrets he fought to leave behind.
Showings for
Friday, 4/9/2021 through Thursday, 4/15/2021
Friday
No Showings
Saturday
No Showings
Sunday
No Showings
Monday
No Showings
Tuesday
No Showings
Wednesday
No Showings
Thursday
No Showings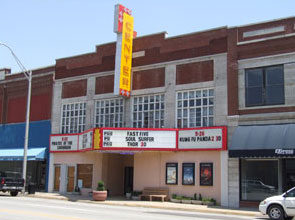 Center Theater of Vinita
124 S. Wilson St.
(The above link will open a map in Google Maps)
Ticket Prices
Adults: $8.00
Children: $7.00
Seniors: $7.50
Students: N/A
Military: 7.50 Children = Age 3-11
Seniors = Age 62 & Up

Showtimes before 5:30 P.M. have the bargain matinee price of $6.50
There is a $2.00 surcharge for all 3D films
Phone: (918) 256-2097