Title:
The Notebook
Rating:
PG-13
Running Time:
2 hours 3 minutes
More Information:
Click Here
Description:
An epic love story centered around an older man who reads aloud to a woman with Alzheimer's. From a faded notebook, the old man's words bring to life the story about a couple who is separated by World War II, and is then passionately reunited, seven years later, after they have taken different paths.
Showings for
Friday, 3/5/2021 through Thursday, 3/11/2021
Friday
No Showings
Saturday
No Showings
Sunday
No Showings
Monday
No Showings
Tuesday
No Showings
Wednesday
No Showings
Thursday
No Showings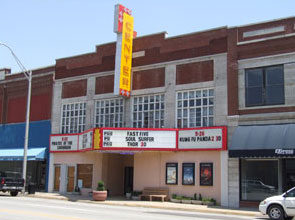 Center Theater of Vinita
124 S. Wilson St.
(The above link will open a map in Google Maps)
Ticket Prices
Adults: $8.00
Children: $7.00
Seniors: $7.50
Students: N/A
Military: 7.50 Children = Age 3-11
Seniors = Age 62 & Up

Showtimes before 5:30 P.M. have the bargain matinee price of $6.50
There is a $2.00 surcharge for all 3D films
Phone: (918) 256-2097