Title:
Monster Hunter
Rating:
PG-13
Running Time:
1 hour 44 minutes
More Information:
Click Here
Description:
A portal transports Lt. Artemis and an elite unit of soldiers to a strange world where powerful monsters rule with deadly ferocity. Faced with relentless danger, the team encounters a mysterious hunter who may be their only hope to find a way home.
Showings for
Friday, 1/15/2021 through Thursday, 1/21/2021
Friday
No Showings
Saturday
No Showings
Sunday
No Showings
Monday
No Showings
Tuesday
No Showings
Wednesday
No Showings
Thursday
No Showings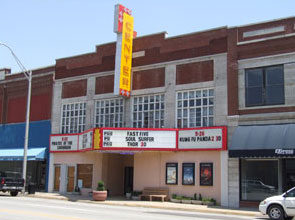 Center Theater of Vinita
124 S. Wilson St.
(The above link will open a map in Google Maps)
Ticket Prices
Adults: $8.00
Children: $7.00
Seniors: $7.50
Students: N/A
Military: 7.50 Children = Age 3-11
Seniors = Age 62 & Up

Showtimes before 5:30 P.M. have the bargain matinee price of $6.50
There is a $2.00 surcharge for all 3D films
Phone: (918) 256-2097