Title:
Willy Wonka & the Chocolate Factory
Rating:
G
Running Time:
0 hour 1 minutes
More Information:
Click Here
Description:
A sweet boy from a poor family dreams of finding one of five golden tickets hidden inside chocolate bar wrappers which will admit him to the eccentric and reclusive Willy Wonka's magical factory.
Unfortunately, this film does not have a trailer available to us.
Please click here for more movie information.
Showings for
Friday, 5/22/2020 through Thursday, 5/28/2020
Friday
7:00 PM

Saturday
1:30 PM
7:00 PM

Sunday
1:30 PM
7:00 PM

Monday
No Showings
Tuesday
7:00 PM

Wednesday
7:00 PM

Thursday
7:00 PM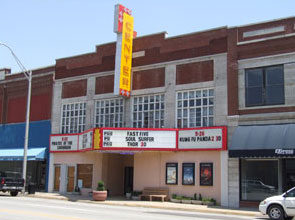 Center Theater of Vinita
124 S. Wilson St.
(The above link will open a map in Google Maps)
Ticket Prices
Adults: $8.00
Children: $7.00
Seniors: $7.50
Students: N/A
Military: 7.50 Children = Age 3-11
Seniors = Age 62 & Up

Showtimes before 5:30 P.M. have the bargain matinee price of $6.50
There is a $2.00 surcharge for all 3D films
Phone: (918) 256-2097