Title:
Sonic the Hedgehog
Rating:
PG
Running Time:
1 hour 39 minutes
More Information:
Click Here
Description:
Based on the global blockbuster videogame franchise from Sega, Sonic the Hedgehog tells the story of the world's speediest hedgehog as he embraces his new home on Earth. In this live-action adventure comedy, Sonic and his new best friend team up to defend the planet from the evil genius Dr. Robotnik and his plans for world domination.
Showings for
Friday, 2/21/2020 through Thursday, 2/27/2020
Friday
7:00 PM
9:00 PM

Saturday
1:30 PM
4:00 PM
7:00 PM
9:00 PM

Sunday
1:30 PM
4:00 PM
7:00 PM

Monday
7:00 PM

Tuesday
7:00 PM

Wednesday
7:00 PM

Thursday
7:00 PM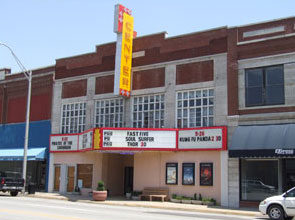 Center Theater of Vinita
124 S. Wilson St.
(The above link will open a map in Google Maps)
Ticket Prices
Adults: $8.00
Children: $7.00
Seniors: $7.50
Students: N/A
Military: 7.50 Children = Age 3-11
Seniors = Age 62 & Up

Showtimes before 5:30 P.M. have the bargain matinee price of $6.50
There is a $2.00 surcharge for all 3D films
Phone: (918) 256-2097