Title:
Barbarian
Rating:
R
Running Time:
1 hour 42 minutes
More Information:
Click Here
Description:
In town for a job interview, a young woman arrives at her Airbnb late at night only to find that it has been mistakenly double-booked and a strange man is already staying there. Against her better judgement, she decides to stay the night anyway, but soon discovers that there is much more to be afraid of in the house than the other house guest.
Unfortunately, this film does not have a trailer available to us.
Please click here for more movie information.
Showings for
Friday, 9/30/2022 through Thursday, 10/6/2022
Friday
No Showings
Saturday
No Showings
Sunday
No Showings
Monday
No Showings
Tuesday
No Showings
Wednesday
No Showings
Thursday
No Showings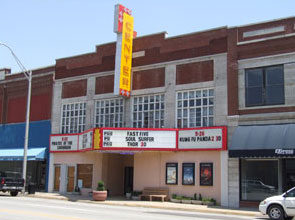 Center Theater of Vinita
124 S. Wilson St.
(The above link will open a map in Google Maps)
Ticket Prices
Adults: $8.50
Children: $7.50
Seniors: $8.00
Students: N/A
Military: $8.00

Children = Age 3-11
Seniors = Age 62 & Up

Showtimes before 5:30 P.M. have the bargain matinee price of $7.00
There is a $2.00 surcharge for all 3D films
Phone: (918) 256-2097