Title:
Where the Crawdads Sing
Rating:
PG-13
Running Time:
2 hours 5 minutes
More Information:
Click Here
Description:
Abandoned by her family, Kya raises herself all alone in the marshes outside of her small town. When her former boyfriend is found dead, Kya is instantly branded by the local townspeople and law enforcement as the prime suspect for his murder.
Showings for
Friday, 8/12/2022 through Thursday, 8/18/2022
Friday
No Showings
Saturday
No Showings
Sunday
No Showings
Monday
No Showings
Tuesday
No Showings
Wednesday
No Showings
Thursday
No Showings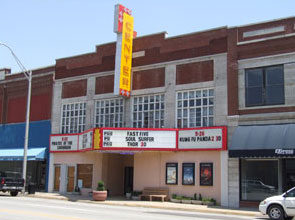 Center Theater of Vinita
124 S. Wilson St.
(The above link will open a map in Google Maps)
Ticket Prices
Adults: $8.50
Children: $7.50
Seniors: $8.00
Students: N/A
Military: $8.00

Children = Age 3-11
Seniors = Age 62 & Up

Showtimes before 5:30 P.M. have the bargain matinee price of $7.00
There is a $2.00 surcharge for all 3D films
Phone: (918) 256-2097