Title:
Jurassic World Dominion
Rating:
PG-13
Running Time:
2 hours 27 minutes
More Information:
Click Here
Description:
Four years after Isla Nublar was destroyed, dinosaurs now live—and hunt—alongside humans all over the world. This fragile balance will reshape the future and determine, once and for all, whether human beings are to remain the apex predators on a planet they now share with history's most fearsome creatures.
Showings for
Friday, 7/1/2022 through Thursday, 7/7/2022
Friday
7:00 PM

Saturday
1:00 PM
4:00 PM
7:00 PM

Sunday
4:00 PM
7:00 PM

Monday
7:00 PM

Tuesday
7:00 PM

Wednesday
7:00 PM

Thursday
7:00 PM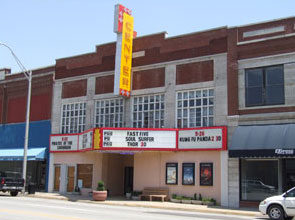 Center Theater of Vinita
124 S. Wilson St.
(The above link will open a map in Google Maps)
Ticket Prices
Adults: $8.50
Children: $7.50
Seniors: $8.00
Students: N/A
Military: $8.00

Children = Age 3-11
Seniors = Age 62 & Up

Showtimes before 5:30 P.M. have the bargain matinee price of $7.00
There is a $2.00 surcharge for all 3D films
Phone: (918) 256-2097