Title:
Sonic the Hedgehog 2
Rating:
PG
Running Time:
2 hours 2 minutes
More Information:
Click Here
Description:
After settling in Green Hills, Sonic is eager to prove he has what it takes to be a true hero. His test comes when Dr. Robotnik returns, this time with a new partner, Knuckles, in search for an emerald that has the power to destroy civilizations. Sonic teams up with his own sidekick, Tails, and together they embark on a globe-trotting journey to find the emerald before it falls into the wrong hands.
Showings for
Friday, 5/20/2022 through Thursday, 5/26/2022
Friday
7:00 PM

Saturday
4:00 PM
7:00 PM

Sunday
4:00 PM
7:00 PM

Monday
7:00 PM

Tuesday
7:00 PM

Wednesday
7:00 PM

Thursday
7:00 PM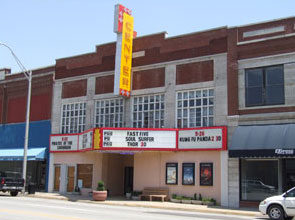 Center Theater of Vinita
124 S. Wilson St.
(The above link will open a map in Google Maps)
Ticket Prices
Adults: $8.50
Children: $7.50
Seniors: $8.00
Students: N/A
Military: $8.00

Children = Age 3-11
Seniors = Age 62 & Up

Showtimes before 5:30 P.M. have the bargain matinee price of $7.00
There is a $2.00 surcharge for all 3D films
Phone: (918) 256-2097