Title:
Snake Eyes: G.I. Joe Origins
Rating:
PG-13
Running Time:
2 hours 1 minute
More Information:
Click Here
Description:
After saving the life of their heir apparent, tenacious loner Snake Eyes is welcomed into an ancient Japanese clan called the Arashikage where he is taught the ways of the ninja warrior. But, when secrets from his past are revealed, Snake Eyes' honor and allegiance will be tested – even if that means losing the trust of those closest to him.
Showings for
Friday, 7/30/2021 through Thursday, 8/5/2021
Friday
No Showings
Saturday
No Showings
Sunday
No Showings
Monday
No Showings
Tuesday
No Showings
Wednesday
No Showings
Thursday
No Showings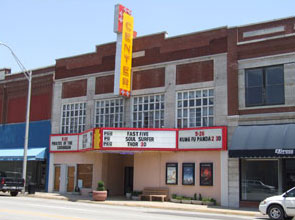 Center Theater of Vinita
124 S. Wilson St.
(The above link will open a map in Google Maps)
Ticket Prices
Adults: $8.00
Children: $7.00
Seniors: $7.50
Students: N/A
Military: $7.50

Children = Age 3-11
Seniors = Age 62 & Up

Showtimes before 5:30 P.M. have the bargain matinee price of $6.50
There is a $2.00 surcharge for all 3D films
Phone: (918) 256-2097